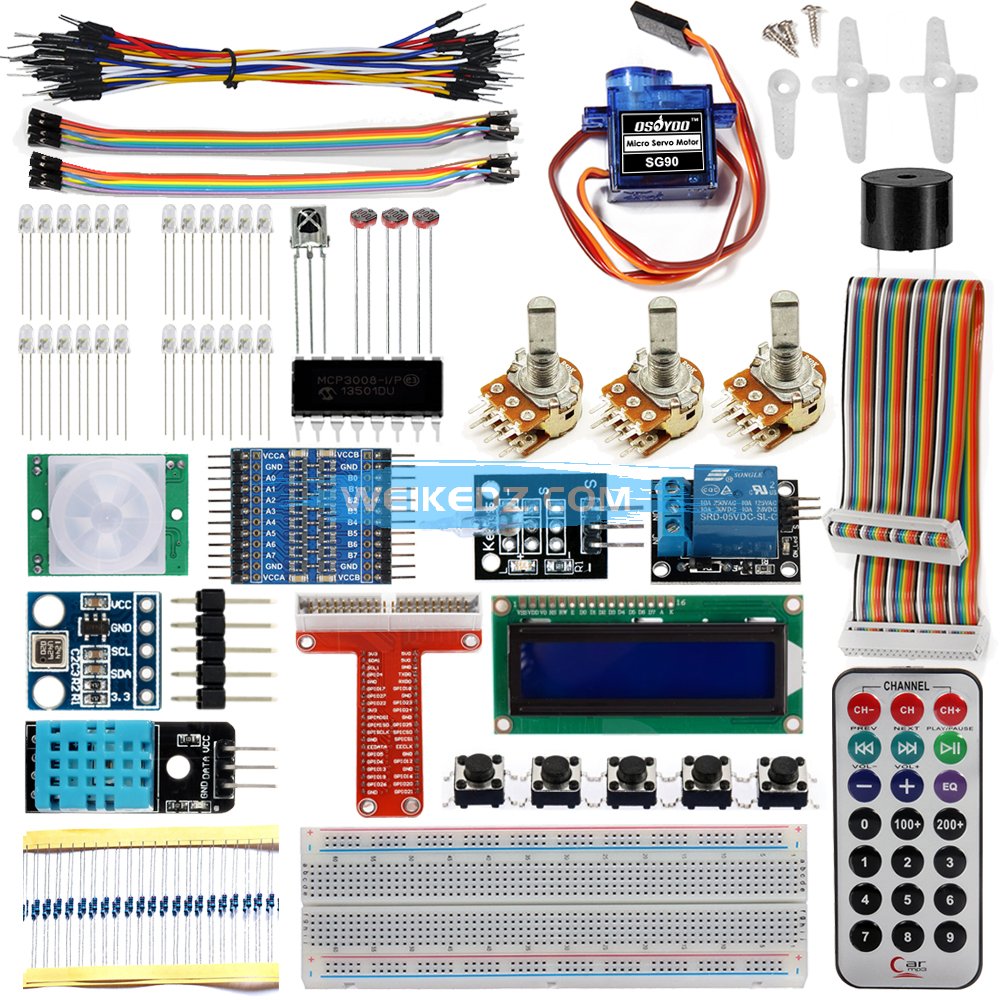 Ultimate Starter Kit 1602 LCD SG90 Servo LED Relay Resistors for Raspberry Pi 3 Leaning Kit for Raspberry Pi

Specification:
This is a Ultimate Starter Leaning Kit including bulk of components, electronic modules(without the Rasp Pi) that are common-used during Raspberry Pi experiment.
This is a Ultimate Starter Leaning Kit for Raspberry Pi and it is a more comprehensive kit than our other Raspberry Pi Kits, this kit contains more than 20 kinds of different electronic components, more than 100 components are included. With this kit ,we will take you from knowing to utilizing ,you are able to do more experiment , get your more idea into real action without the restriction of hardware and software , and we have offer a Tutorial .
For Raspberry Pi 3 experiment,to help beginners to understand what is Internet Of Things, our team, partnered with cayenne.mydevices.com, designed this ultimate starter kit which can provide some hands-on experience for internet of things technology and create some simple but useful projects for fun. how to use the app you can check here.
1 x Solderless Prototype Breadboard
1 x T-type GPIO Extension Board
1 x 5V 1- Channel Relay Module
1 x DHT11 Temperature/Humidity Sensor Module
1 x BMP180 Pressure/Temperature Sensor
1 x HC-SR501 Infrared PIR Motion Sensor Module
1 x Mercury Switch Sensor Module
1 x 8 Channel Logic Level Converter
1 x MCP3008-I/P Analog to Digital Converter
1 x Infrared Receiver(VS18338B)
1 x Infrared Remote Controller
3 x GL5616 Photoresistor(light sensor)
24x LED (6 x Bright White, 6 x Red, 6 x Yellow, 6 x Green)
56x Jumper Wires(1 x 40pin male to male 15cm,2 x 8pin female to female 20cm)
60x Resistors(4 Values*15pcs)